Adrenaline Mechanical Frame Kit for Luxe TM40
   |   
The Adrenaline Mechanical Frame Kit for the new TM40 Luxe includes everything you need to convert your TM40 to mechanical in style with official Adrenaline parts. Because we include the matching ASA (in Adrenaline Luxe design), you can swap in seconds vs. having to remove the ASA from frame to frame each time. It also includes a set of Adrenaline custom wood grips made specifically for our safety design (and the necessary longer screws).
It includes:
Adrenaline Mechanical Frame
Adrenaline Luxe ASA
Adrenaline Trigger
Adrenaline Safety Design
Adrenaline Mech Timer by Garmin (customizable with Garmin App)
Standard Luxe TM40 Mechanical Rubber Grips
TM40 Mechanical Valve
Adrenaline 1911 Wood Grips
Adrenaline Mechanical Case for frame with zipper compartment for mechanical valve
NOTE - THIS DOES NOT FIT THE LUXE X, ICE OR ANY OTHER PREVIOUS GENERATION LUXE
Customer Reviews
Write a Review
Ask a Question
Filter Reviews:
mech
TM40
adrenaline luxe
finish
build
star
automag
Neither
function
form
I recommend this product
So much goodness
Great frame-great company- take all my money!!!
04/24/2022
Chance L.

United States
I recommend this product
Best way to play mech
After looking at both mech frames (adrenaline and DLX) for my TM40's I chose to go with the adrenaline Mech frame. The build in garmin is great for 10-man events and scenarios. Not to mention you always have the time when around your gun at the field. I can consistently get 14-15bps in game and I can get 18+ strings when I need to. This pairs perfectly with the F16 bolt upgrade for your TM40. I have added this to two TM40's and love them when I don't want to break out my adrenaline luxe.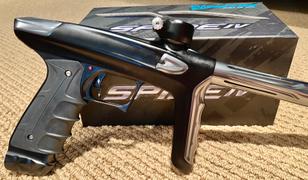 03/07/2022
William F.

United States
01/22/2022
Vitali K.

United States
I recommend this product
Adrenaline Luxe TM40 mech frame kit
Great kit !!! Easy to switch, got everything you need in one storage bag, convenient, and well thought. Works like a charm , easy to adjust to your liking. It's gives you options to use gun you love for mech events or just weekends play with rentals .
01/19/2022
Kyle R.

United States
I recommend this product
Mech Frame Review
This a great preforming frame, the best on the market in my opinion. Sadly I find for the money spent the manual and support is lacking on a few things, fitment being the largest point, but even the trigger adjustment instructions are poor. Neither of these affect form fit or function just being nit picky on why you get a 4 star and not a 5. other than that it is the fastest shooting mech design since the automag was developed.